Permaroof Brighton Green Roofing Services
Green roofing systems are increasing in popularity across the UK in both domestic and commercial situations. With a high aesthetic value and energy efficiency benefits, it is easy to see why these living roofs are becoming more popular.
In an area like Brighton, green roofing systems are the perfect way to tick vital boxes in terms of conservation with the increase of wildlife habitats for birds, bees and other insects. With working from home on the rise, green roofs are a valuable addition to garden offices and other outbuildings, creating a beautiful workspace environment.
In a commercial setting, a growing trend in urban areas is the provision of relaxing open spaces for employees and clients to enjoy. Particularly popular in properties with no or limited garden space, sometimes typical of the commercial properties in Brighton, green roofing terraces are changing the way people are using otherwise redundant spaces. Why not think about a place for your clients and staff to enjoy the views of both the green roofing and Brighton at the same time?
Key benefits of green roofing:
Reduces energy consumption and heat loss
Reduced water run-off
Improved sound insulation
Encourages local wildlife
Why choose us for your green roofing in Brighton?
We're experienced and knowledgeable about green roofing and can help with all aspects, from advice on structural stability – a critical part of the design process – to planting and everything else in between.
Green roofing is much heavier than more typical roof systems. It consists of multiple layers from the waterproofing membrane, through insulation, drainage and root suppressant before planting. It is important to ensure your current roofing will be sufficient to carry additional weight and this is where some planning and know-how can go a long way towards project success.
Established for more than 25 years, we understand our client base and enjoy working across the south-east, providing reliable, high-quality service at competitive prices. We offer our customers the most energy-efficient, environmentally-friendly options in the current marketplace and back this up with a 10-year workmanship guarantee on top of the 20-year EPDM membrane warranty.
For Brighton green roofing, look no further, talk to us about one of the most beautiful, fast-growing trends in the industry and be the envy of your neighbours.
Book your free, no obligation survey and quotation today.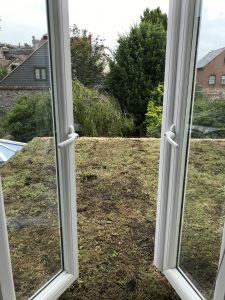 Please browse our recent green roofing projects
More examples available on request.
Permaroof
2019-11-18T13:33:04+00:00
Green Roof Construction This is the green roof with [...]
Permaroof
2019-11-18T13:07:07+00:00
Green Roof Brighton This green roof Brighton was laid [...]
Spread the cost with PermaFinance
Permaroof Brighton now offers roofing finance packages to help spread the cost of your new installation. As such, our customers can now opt to choose a finance option from £750 to £25,000 to spread the cost over flexible terms. Whether you need roof repairs, replacement or a full flat roof extension, we can help and now you can spread the cost of these essential works.
About Permaroof Brighton
We are the new and exciting arm of the well-established roofing and conservatory company, Multiglaze. We provide general flat roofing services, EPDM rubber membrane installation, facias, as well as other roofing essentials. If you are looking to add further value to your home why not consider us for conservatories, replacement conservatory roofs, skypods and roof lanterns, windows and doors, We mainly carry out works for domestic customers, however we will consider any larger commercial enquiries.
Our company has been established for over 25 years, and we've been carrying out successful installations across the South East throughout. We pride ourselves on the high quality of workmanship and personal service we provide. We offer quality products and competitive prices. Please contact us for more information or a free quote.
Areas covered: Covering East and West Sussex, and parts of Kent, we can travel within a 40 mile radius of our base in Hailsham, East Sussex, including Brighton and Hove, Hailsham, Eastbourne, Newhaven, Peacehaven, Pevensey, Polegate.
Permaroof Brighton is a part of the Permaroof UK Contractor Network. We have had a good working relationship with Permaroof for nearly 10 years now. They provided us with training and support continuously. We have replaced many tired felt roofs with EPDM for many satisfied customers and are delighted to now offer these services in partnership with Permaroof UK. All our work is covered by insurance backed guarantees.
Customer Reviews
Multi glaze replaced our bay windows, flat roofs and built us a fantastic porch. Darren and the team were excellent and take real pride in their work. They left the place spotless. I would thoroughly recommend if you are after great value Windows fitted to a really high standard.
I contacted Darren at Multi Glaze to get a quote to have my kitchen window replaced with a upvc back door and side window. Darren was brilliant providing me with all the correct information needed and was very patient while we got the money together, we never felt rushed or obliged into having the work done. Darren and the team have been amazing very professional, friendly, efficient and very clean. We are extremely happy with our brand new back door and glad we chose Multi Glaze to carry out the work. Thank you again guys
Very friendly team and great quality work