Permaroof Brighton is celebrating the summer with a special offer giveaway for all our customers. We're giving away a free Hedgehog GutterBrush to help you prepare for the upcoming autumn issue of blocked guttering.
The summer is the perfect time to check over flat roofing and make sure there are no vulnerable areas. Don't leave it too late, as once the winter arrives, sorting out leaking roofing issues makes life more difficult.  Throughout August, we're working to replace old, tired felt roofs with EPDM systems, designed to keep out the water reliably and over the long term. We know that the gutters often get overlooked until they start to cause damage and by then it is too late, and repairs are inevitable.
Keeping gutters clear of debris with a GutterBrush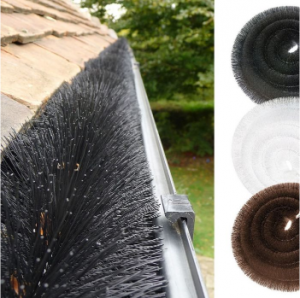 The GutterBrush is a simple, innovative product made up of polyurethane bristles wound round a central stainless steel core. The brush fits snugly in standard 100mm or 150mm gutters and can be secured using wires at each end. The filaments sit above the gutters and prevent leaves and small debris from entering and instead they are blown away from the gutter or caught in the bristles. Rainwater easily passes through the brushes and drains away normally through the rest of the drainage system.
Guaranteed for seven years, The Hedgehog GutterBrush can get rid of the yearly drudge or cost of clearing the gutters professionally.
How Permaroof Brighton can help you
We're a friendly team of professional flat roofers covering Brighton and the surrounding areas, and no job is too small or too large. We pride ourselves on customer service and through our Permaroof Licenced Contractor program participation provide a free insurance-backed guarantee and product warranties to offer you peace of mind. We want you to be confident and assured that your EPDM and liquid flat roofing jobs are done right first time with Permaroof Brighton.
We can also help to spread the cost of all your flat roofing projects around the home and garden through our new finance packages. Why not talk to us this year about your roofing? Let us assess your current systems and chat about your options. Call us on 01273 00 78 78 today – claim your free GutterBrush this summer and forget about clogged gutters for years to come.